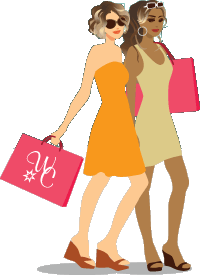 Last Wednesday, I was the featured guest on Wickedly Chic's website.  I participated in a chat session on PR 2.0 and Social Media communications.  Even though the group was small, the conversation was fast and furious with a non-stop, dynamic conversation that took place for an entire hour.
I always find chat sessions interesting because I like to analyze the questions to ascertain the level of social media knowledge and to better understand the concerns and challenges of business owners when it comes to participating in social media communications.
With every new speaking engagement, chat session and webinar/teleseminar, I feel that the questions are becoming more sophisticated and exchanging information via social media has become a daily practice for most.  The Wickedly Chic chat covered several topics including how to get the most out of Twitter, the best ways to advertise on Facebook and we also discussed why it's important to blog, comment and participate in other blog communities.
Here are a few examples of their questions:
How do I find business value on twitter?
How do you filter tweets to get rid of the noise?
What's the best way to listen to conversations and topics?
What would be some good search terms to help me find consumers interested in my website?
Can I start my own hashtag?
What do you think about using twitter to find new customers?
What is tweetdeck?
How do you "engage" properly in social media?
What do you think of Facebook advertising?
Can you advertise on Facebook by using key words or topics of interest?
How often should you blog?
The questions were really good for small business owners and it's great that they want to engage the right way and use social networks to build relationships with customers. It's these questions that are so valuable and make the chat a great resource.  I think that the chat session is an easy and quick way to engage with people and to learn more about them in a structured manner.  As the chat participants asked questions, I was able to better understand their mindset, concerns and challenges with social media.  The questions they asked gave me insight into what resources I could provide to help them moving forward.
I highly recommend using chat sessions if you have the opportunity to run them on your website (meebo is a simple chat option).  My agency does about two chat sessions a month on a variety of topics from marketing and branding to PR and Social Media communications.
Have you recently participated in a chat session and have you considered using the chat forum on your website to get to know your online visitors better?